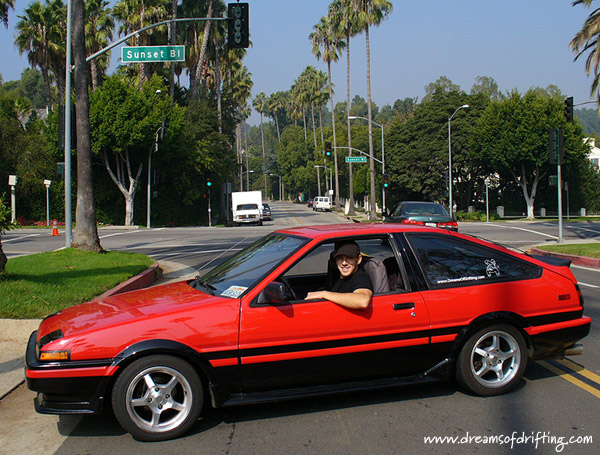 Sunset BLVD, Beverly Hills CA, November 2005
---
Migs' 1986 Corolla GT-S Hatchback
approx. current odometer reading: 405,000 KM (on chassis)
---
As of Summer 2008...
I ditched the crappy coil overs that made the car handle like crap and feel more like the tin can the car really is. You "drifters" can keep it.
I picked up some TRD Japan street springs and Tokico blues and the car is an absolute riot to drive again.
One valuable lesson I've learned after trying a stiff suspension...it ruins the feel and personality of the AE86. Without any body roll or flex, the car becomes incredibly boring to drive.
But hey, it's what "everyone does" so what do I know?
(I know I can drive the car really, really fast with what I have now)
---
Written in Fall 2005...
This car was purchased in fall of 2001 from a nice older-lady for an amazing $500 CAN after she walked into the Toyota service dept. I was working in and asked "Would anyone like to buy a Corolla?". Some conversations later, she could tell how much these cars meant to me, and hers in particular, so she gave me the once in a lifetime deal completely out of the kindness of her heart. The Gods of Oldschool were smiling upon me once again...
To this day, my hatchback is one of the cleanest examples of a regular daily-driven AE86 I have ever come across in Canada (that means winter too!), much of that being due to my constant unrelenting efforts. Even with around $10k CAN worth of Toyota dealership work performed over the years, the car still needed plenty of love and attention once I became the owner. Aside from those usual never-ending maintenance requirements, the car was simply screaming for attention. Since that time, it has slowly and methodically been maintained, rebuilt, and modified to my exact demands...more importantly, almost completely by myself. I set out to make this car beautiful, perfectly street-able, fun, and above all, reliable. As with anything in my life, this car was intended to be, has proven to be, and continues to be a constant learning tool in more ways than I could ever describe.
I am so incredibly proud of my hatchback because of everything it exemplifies in the way I approach life. It is the culmination of years of toil and stress that has taken incalculable amounts of my income and personal time to build and maintain, and something I know that nobody will ever truly comprehend. I've placed incredible amounts of trust in this silly old Corolla throughout the years, and just when I think I'm crazy to put any more money into keeping it running strong, I remember all the joy it has brought me and all the incredible places it has taken me to. The amazing thing is how deep down, I knew that all my efforts would pay off some day. The trips, the lessons learned, the people I've met, the fun...nothing prepared me for the no.5 win at the Chicago RSR Drift Festival in 2004. Some people think this made my ego grow, but to those who know me, it should be obvious that it did nothing but reaffirm my outlook and direction with this car.
I have broken countless barriers with the hatchback, and impressed even more individuals with what I'm able to accomplish with it. Most of which, those who are too closed-minded to consider the fact that someone who resides in a notoriously-uneducated age bracket actually knows what he's doing behind the wheel of a car. The funniest thing is that the more I think about actually modifying the hatchback to fit the form of the stereotypical "AE86" or "drift car", the stronger my desire is to keep it exactly as it is just so I can continue to prove everyone wrong...but bring smiles to their faces while doing it.
If there is anyone out there who doubts that I'm already driving my dream car, then it just goes to show that you're unable to understand how much it means to me.
Long live the hatchback!
---
Road Trips!
This car has probably driven to more places across North America than any other AE86 on the continent. Here are some of the major cities I've driven to with my hatchback:
Calgary, Vancouver, Seattle, San Francisco, Los Angeles, San Diego, Las Vegas, Salt Lake City, Billings, Great Falls, Saskatoon, Minneapolis, Chicago, Detroit, Toronto, Niagara Falls, Montreal, Quebec City, Buffalo, New York City, Boston, Pittsburgh, Orlando, Key West...and the list WILL go on ;)
-Migs
---
Painted. Finally.
Here's my hatchback as of October 29, 2005...and my proof to the world of what I can accomplish with a whole bunch of hard work and determination...
---
The mandatory "mod" list...
Security
-Alpine Type R security system
w/motion detector
w/vibration sensor
w/starter kill
-Snap-off quick disconnect steering hub
-Super secret fuel cut off system
Engine Related
-Rebuilt engine with 40k KM installed
-PDM camshafts 261deg. / 223 dur.
-Cusco engine mounts
-Cusco transmission mount
-NGK spark plug wires
-Electric fan w/auto turn on
-AE92 GT-S water inlet/thermo switch for electric fan
-Gutted catalytic converter
-Removed EGR system
-Removed charcoal canister
*soon* Vibrant stainless steel exhaust header
Drivetrain
-TRD 2-way LSD
*soon* Exedy 212mm clutch
*soon* OEM AE92 212mm flywheel
*soon* Custom short shifter
Chassis/Suspension
- Hawk HPS brake pads
-Front Ground Control coil over kit on custom shortened strut casings
-Front 6 kg/mm coil over springs
-Rear TRD 4 kg/mm springs
-KYB AGX struts and shocks
-Tein Camber Plates
-BattleVersion RCA's
-TRD front sway bar
-custom DPR strut tower bar
-Removed power steering ass'y
- OEM manual steering rack and steering column
Wheels
-15x7 ROH Snyper aluminum rims
-15x7 Riken Mesh wheels
-OEM 1985 "Pizza Cutter" gold AE86 alloys (winter)
-15x6 SSR Mesh spare wheel
Interior
-Removed 1986 black interior
-Installed 1987 black interior
-Momo Monte Carlo steering wheel
-Lexus IS300 shift knob
-OEM 1981 Toyota Starlet shift knob
-2000+ Celica pedal covers
-Blaupunkt CD player
-Blaupunkt single DIN 5 disc cd changer
-Blaupunkt Thummer remote control
-Front JL speakers
-Rear Alpine Type S speakers
-Removed cargo trim
-Custom metal guard railing in cargo area
Exterior
-Two-tone Red on Black JDM scheme paint job
-JDM Zenki front bumper assembly w/lip
-JDM Zenki front bumper light assemblies
-Customized OEM 1985 GT-S grille
-Custom fit OEM front tow hook
-Euro-spec Zenki rear bumper
-JDM Zenki sideskirts
-Aus-spec Sprinter tail lights w/light up SPRINTER
-OEM rear wing installed
-Migs Spec® black headlight covers
-1988+ Toyota rear quarter marker lamps
-3M hood tape on hood and headlight covers
-Sylvania Xtravision headlights
-Borla exhaust tip
-Rear hatch door louvres (for special occasions)
-Canadian flag on front lip
-Dori-Kaze sticker
-Homer Simpson "Pointing to FWD on ass" sticker
---
Dreams of Drifting Copyright © 01/2000 Chris Migallo
all rights reserved