Winners of the local Competition

1st place
Rob Riter

Black Mazda Miata


2nd place
Nathan Brasz

Black Nissan 240sx

S13 Coupe


3rd place
Keith Schoeler

White Nissan 240sx

S13 Coupe


4th place
Robert Strohmeyer

White Nissan 240sx

S13 Coupe



Chris Migallo

Red Toyota Corolla GT-S

AE86 Hatchback

I've got the scooter





My hatchback parked beside Taka and Hiro's AE86s
On September 26th, 2004, RS*R hosted it's second Drift Festival in Chicago, Illinois. The event was divided into three parts; a drifting demonstration by RS*R's drift team, a drifting competition for professional/sponsored drivers, and a local drifting competition for private drivers and their cars. After a long drive, a very short sleep, a couple mechanical problems, and a couple big mistakes on my part, I managed to return to Canada with a 5th place win from the local competition.
The decision to go to Chicago was no different than most of my decisions related to road trips; it was...sudden, to the say the least. I had recently begun working a full-time co-op position with Suzuki Canada Inc. at the time, and making just enough money to cover my living expenses plus a little extra to keep my sanity in my free time. I certainly couldn't afford to go to Chicago, but that's never stopped me from traveling in the past, so I figured it made little sense for that to keep me away from my first real drifting competition.
My good friend and likewise drifting fan, Adam, was quick to agree to tag along for the trip, even though I requested he brought his 240sx S14 along as a support vehicle in case I managed to blow up my poor old Corolla during the event. I have faith in my car, but traveling 12 hours, drifting for a day, then traveling another 12 hours back home in a vehicle that has seen as much action as any daily driven car ever could (and more) was risky no matter how you looked at it!
I soon found out that Alex, another guy in Ontario whom I'd met from DriftNation was also planning on heading down to Chicago for the event with his 240sx S13 Coupe, so we decided to drive down together.
---
The E-brake fiasco: part 1
A couple days before the Chicago event, I stayed up late and replaced my e-brake cables with new units. For as long as I've owned my hatchback, the e-brake has always been weak, and I had assumed it was because the cables were stretched. After replacing them however, there was no change...which was a big let down considering my e-brake is what I reach for whenever I need to get the rear end of my car to swing out in a split second. Being that this was my first drift competition, I wanted to have that extra safe-guard just in case I ran into trouble for whatever reason. I didn't understand why the e-brake was still so weak, even after I tightened it further...but it was late and decided to go to bed since I couldn't figure out the problem at that time. That was my first mistake...but more on that later...
---
Headed to Chi-town
The drive to Chicago was pretty uneventful, which was fine by me. We left a little later than expected however, so by the time we got to Chicago, it was about 11:30pm. We could have found a place to stay and gone to bed at that time....buuuuut I knew they'd be setting up at the race track and I didn't want to miss a thing! After a few wrong turns, and some careful map consultation, we finally found the venue.
As we pulled into the parking lot that would be turned into a drifting track the next day, we were happy to see the RS*R Supra flying across the asphalt at break neck speeds. Moto (Club4AG / Drift Association LLC) was standing out in the middle of the lot watching as the driver tested the track that he and the other organizers had just finished plotting out. After a brief photo shoot with Taka and Hiro's AE86s, we greeted Moto and offered to help out however we could. We were distracted however by the usual antics of Alex Pfieffer who started messing around with his RS*R S2000. As with every time I met up with Alex in the past, he was wearing his trademark flip-flops and that big goofy grin.
We left soon thereafter, and retired at one of the first Hotels we could find. At that point, I could barely keep my eyes open, and I knew tomorrow was going to be a big day...
---
View coverage by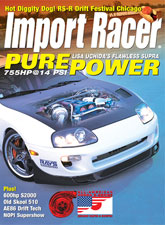 January 2005 Issue
© Y-Visionary Publishing, LP 2004
---
Photos!
-JDM Adam's Gallery
-JDM Alex' Gallery
---
Vids!
Please right-click and Save Target As...
Practice Runs
Competition Runs