Photo Gallery - The Cars
Welcome to my gallery.

Here you can find just a few of my favorite photographs of my 1986 Corolla GT-S hatchback, most of which are from my many road trips across Canada and the USA. I've edited some of them to add effect...

Other shots of cars will be placed here as well.

I have many pictures to go through and add, so be sure to check back.

Please keep in mind that these pictures belong to me, and are a part of my life. I have no problem with anyone saving these images for their own viewing, but I do not consent to any of them being used beyond that purpose.
---
The cars of Havana, Cuba - The best shots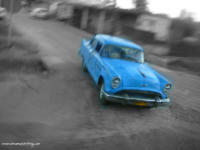 ---
The Girlfriend's Charger
---
Just a few of The Hatchback